A brand new breeditraw video is about to be released so grab your seats and get ready to be amazed. This time, we have two incredible horny guys, ready to bang each other and also to share with you their amazing experience. Just have a look: two amazing ebony bodies, all worked out, getting ready to be just one. You'll see these two hot guys exploring each other's bodies with their hands, reaching their fat black cocks and starting to milk them with curiosity and lust, making sure that they will get bigger and harder.
You got to see this fantastic scene, to see exactly how these two got all fired up, sliding their fingers  deep into their tight ass holes, going in and out, ready to make more room over there, for something way much bigger to get in. Have fun seeing how they are going to pump each other's asses, going deep and way more deep, pushing their dongs inside with passion. See how they are jerking their own cocks while they are being fucked, making sure that they will cum and also have some huge loads of cum spread into their holes. You really must see this video until the end of it, to discover what other things are they about to do. Enjoy every moment and get ready for more excitement and pleasure here. You have the chance now to see an exclusive video, limited edition! Enjoy it!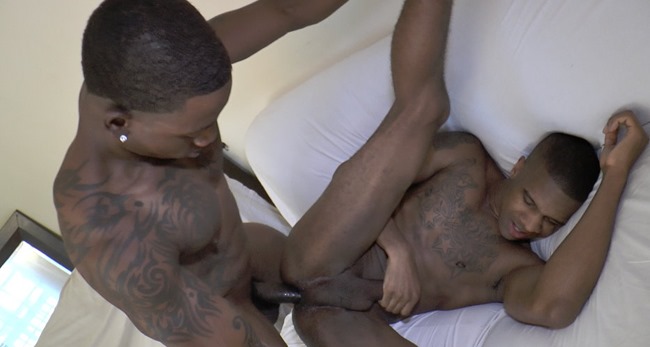 Check out these tattooed hunks pounding one another!