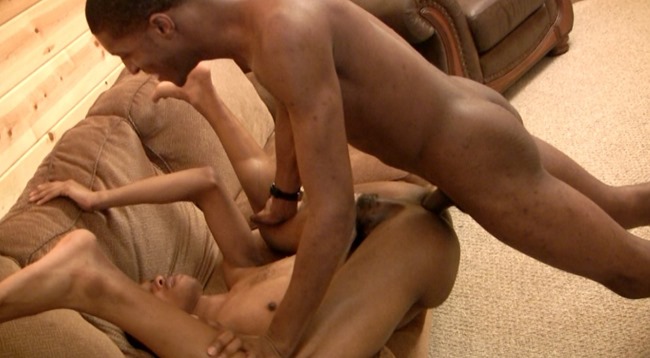 You are about to have an incredible time watching the following video, cause it's truly outstanding. Enjoy seeing these horny black guys, that are so eager to play with each other's bodies, exploring them with such a great lust. They are both so fired up that they definitely won't spend their time on small talk. See how they are going to shove their super sized black cocks right into each other's holes, drilling them with such a great passion. At first, one of them will lay down there, on the couch, spreading his legs and letting his fuck buddy come as close as possible. You'll see how this one grabbed those firm butt cheeks and he started to drill that stretched ass hole, going right into that ass with all his power.
Check out how excited they are and how are they about to cum. One of them will jerk off his big black cock while he is being fucked and he is going to spread his cum load all over his tummy, while the other one, that is drilling his stretched ass hole, is going to release his warm cum right into his butt. Get ready to be excited and hard because of these two hot and horny guys and get ready for many other exclusive videos that are going to be revealed. Enjoy each moment and see you the next time, with many other incredible scenes! Enjoy!
Take a look at these jocks pounding their asses!